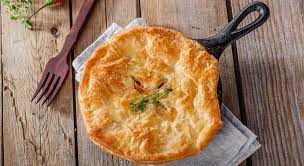 What is it about this time of year that makes you crave your favorite comfort foods? Being from the south, I'm used to home-cooked meals…in fact, I'll admit that I'm pretty spoiled when it comes to my mom's home-cooked meals.
And while no one can cook food quite "like mom," it doesn't mean we can't try to create heart-healthier versions of those foods that just feel like home. One of those meals is chicken pot pie. A warm, breaded crust and chicken and vegetables swimming in a savory and creamy broth.
The original recipe can be quite intense and require a lot of "love" to finish; so, I'm going to tweak the recipe just a bit so you can spend less time in the kitchen and more time enjoying your meal. Some simple changes, such as using premade filo dough instead of homemade chicken pot pie crusts. The filo dough is definitely a step up from refrigerated pie crusts and makes this recipe just as quick and easy.
This meal prep recipe is a super easy way to enjoy the best chicken pot pie in the world today and freeze it for later. The information below makes at least 5 servings, but I tell you how to use it as an individual chicken pot pie recipe for the ultimate meal prep with no guesswork. If you're feeding a family, just use the entire recipe in a casserole dish and you're done.
The flaky filo dough for the top crust is the perfect addition to this recipe and blow those "cheater" chicken pot pie with biscuits recipes out of the water if I do say so myself. I intentionally left out a bottom pie crust to cut down on the carbs and make this classic chicken pot pie recipe simple and without the added worry of a soggy crust. This isn't a low-calorie chicken recipe, but it is much healthier than most other pot pie recipes out there.
To fit this into your meal plan on a super busy day, you could use a pre-cooked rotisserie chicken to save yourself about 20 minutes of cooking time. You could also let the chicken breasts cook in the slow cooker during the day and pull it apart as you assemble the recipe.
Serve this to the family through the week, freeze it and enjoy it all yourself in the weeks to come, or impress a special dinner guest – the choice is yours! However, if you decide to serve up this chicken pot pie recipe surely won't disappoint. In addition, the reviews on toplistall.com will help you know more about healthy chicken pot pie recipes.
CHICKEN POT PIE RECIPE
INGREDIENTS
Ingredients for at least 5 servings:
2lb raw chicken breasts
5 whole wheat filo dough sheets
2 tablespoons olive oil
5 tablespoon garlic (paste or minced)
3 stalks of celery (chopped)
2 large carrots (chopped)
1 red onion (chopped, diced)
1 cup raw butternut squash (diced)**
1 cup frozen peas
Broth
3 cups low-sodium chicken broth
1 cup low-fat coconut milk (canned)
3 tablespoons arrowroot starch (you can use more if you find the broth is too watery after cooking it in the skillet)
Seasonings
1 tablespoon fresh thyme
1 tablespoon fresh rosemary
1 teaspoon cumin
1 egg (beaten to brush on the crust)
In addition, don't forget to find discount codes on Couponxoo which can help you save money on fresh ingredients for chicken pot pie.
STEPS
Set oven to 400F.
Place the chicken breasts on a baking sheet and season with sea salt & pepper. Bake in the oven for about 20 minutes, or until the chicken is completely cooked and the juices from the chicken run clear. Once the chicken has finished cooking, set it aside and allow it to cool.
While the chicken is cooking, mix together the chicken broth and the arrowroot starch together in a bowl. Set it aside.
Set a skillet on medium-high heat and add olive oil. When the skillet is hot, toss in garlic, celery, carrots, onions, and butternut squash. Stir the mixture with a spatula and allow the carrots and celery to soften. Cook for about 10 minutes.
Once the chicken breasts have cooled slightly, pull the chicken into pieces and then toss in to the skillet. Add the seasonings and slowly add in the chicken broth and starch mixture and stir.
Pour in the coconut milk and peas, stir and bring the mixture to come to a boil. Cook for about 3 to 4 minutes, stir and then remove the skillet from the heat. If you would like the sauce to be a tad thicker, you can add a few tablespoons of all-purpose wheat flour to the broth or add few more tablespoons of arrowroot starch.
Evenly divide the chicken mixture among individual baking tins (14.5cm x 8.4 cm x 4.7 cm) or add to a large 5-quart casserole dish.
Fold the filo dough in fourths to cover the top of the individual tins and then use scissors to cut off the excess. If you are using a large casserole dish, stack 5 sheets together, cover the casserole dish, and then cut off the excess using scissors.
In order to give the crust a nice golden color, beat an egg in a bowl and then brush the top of the fillo dough with the egg.
Place the individual pies on a baking sheet and bake in the oven for about 20 minutes, or until the top of the pot pie is golden brown and crusty.
Serve and enjoy immediately. For weekly meal prep, you can freeze these individual tins to preserve the freshness. To reheat, you should defrost in the refrigerator and reheat in the oven at a low temperature.
Finally, you can read more reviews about health, beauty, and lifestyle on Reviewspublic.com or topallreview.com for more useful knowledge for your life.
Read more articles: http://blogmaneiro.com/