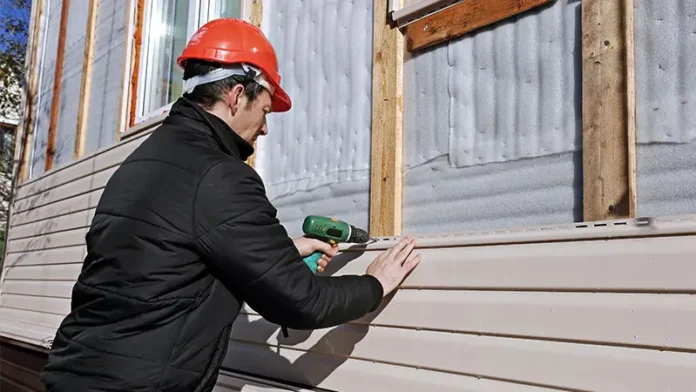 The construction industry keeps growing daily, and there are home improvement ideas to implement in your property now and then. Probably you've thought about siding to improve the home's exterior. It's a good idea that involves adding an outermost protective layer to a house, meaning you no longer have to worry about repainting.
Siding is more than just a decorative feature of your house. It protects your house against harsh weather conditions and keeps unwanted pests away. High-quality siding will also increase the value of your home, and it's durable, easy to maintain, and affordable.
Well, to get the most out of this home improvement project, hire the best siding contractor. Finding the best contractor can be daunting if undertaking such a project for the first time. The good news is that this is a great read for you and offers an ultimate guide to choosing the best contractor.
Continue reading.
What It Takes to Find the Best Siding Expert
Here are some helpful tips to guide you in making wise decisions:
Research Extensively
Researching some basics before you sign the siding project contract is integral. There are personal details to gather about a contractor near you that make the whole process smooth. For instance, you need to review the siding expert's past projects.
Check whether they have completed similar projects and what makes them stand out. Consider any additional services they offer because siding installation is quite demanding.
Compare their quotes fairly, and don't base them on price alone. Check every aspect of the project and ensure the contractor offers detailed information you can understand.
Check Online Reviews
The internet offers robust information to help make wise decisions when seeking specific services. Siding companies utilize the platform to advertise their services and share much with their potential customers. Read these reviews to learn what other homeowners say about the available siding contractors.
Seek Referrals and Helpful Recommendations
Your friends, family members, or colleagues who have done siding work on their property can lend a helping hand. Take the opportunity to ask them questions about the project and who to hire.
Some questions to ask them include:
Was the siding expert helpful?
Were you happy with the final product of the siding project?
How was their customer service?
Did you find their pricing fair?
Would you hire the contractor again?
Check Their Reputation
Before hiring a contractor, you must check with the local Better Business Bureau. You'll learn more about the company's reputation and its values. Further, you'll clear your doubts about whether you're hiring the best individuals for the project.
Inquire About Their Experience
Online reviews may not satisfy your needs or offer all the vital information you need. Therefore, take the initiative to sit down with the contractor and ask all questions you have. Ask them about their experience undertaking siding projects or related types of work they have done in the past. A siding company with a robust history and multiple years in the industry will cautiously pick reputable and experienced contractors.
Proper Certifications
Certifications show how dedicated a company is to its industry and to satisfying customer needs. You have the right to ask potential contractors about their certifications. A reliable siding professional should be qualified to offer such services. They should be able to offer valid and proper insurance and licensing certificates.
Wrapping Up
A new siding to your home is the ultimate marriage of practicality and style. Siding transforms the appeal of your home, increases its value, makes it more energy-efficient, and ensures structural integrity. However, for your project to be a success, hire the services of the best siding contractors. Finding the best contractor can be daunting, but working with a professional will guarantee better results. Go for a contractor that strives to exceed your expectations from the first consultation through the final phase of the installation project. If satisfied, schedule a free quote and improve the look of your home hassle-free.