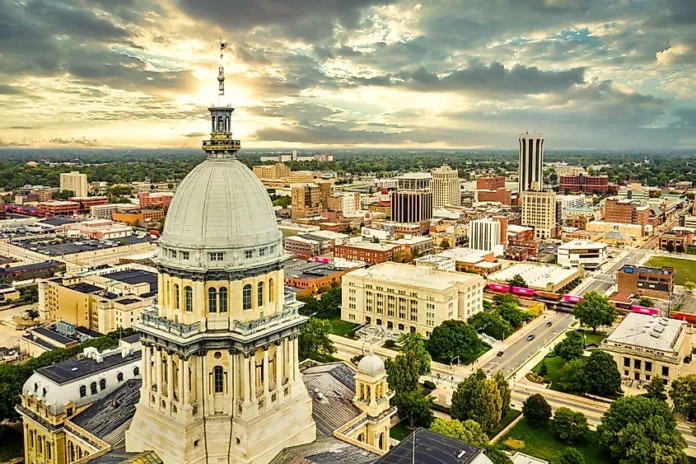 Springfield, the capital of Illinois, is a city brimming with history, culture, and natural beauty.
Presidential Library:
No visit to Springfield is complete without a trip to the Abraham Lincoln Presidential Library and Museum. This world-class museum pays homage to the 16th President of the United States, Abraham Lincoln, who spent a significant part of his life in Springfield. Explore interactive exhibits, view priceless artifacts, and gain a deeper understanding of Lincoln's life, his leadership during the Civil War, and his enduring legacy.
Read Also: allegiant airlines booking
Lincoln Home National:
Just a short walk from the ALPLM, you'll find the Lincoln Home National Historic Site. Step back in time as you tour the only home Abraham Lincoln ever owned. Rangers provide guided tours, sharing stories about Lincoln's family life, political career, and the challenges he faced during his time in Springfield.
Old State Capitol State Historic Site:
The Old State Capitol is another must-visit historical landmark in Springfield. This beautifully restored building served as the state's capitol when Lincoln was a legislator. It was here that he delivered his famous "House Divided" speech. Explore the chambers where important decisions were made, and don't forget to visit the impressive Hall of Representatives.
Illinois State Museum:
For those interested in Illinois's natural and cultural history, the Illinois State Museum is a treasure trove of exhibits. Discover everything from prehistoric fossils to Native American artifacts and modern art. The museum offers a fascinating glimpse into the state's rich heritage.
Dana-Thomas House:
Designed by the renowned architect Frank Lloyd Wright, the Dana-Thomas House is a masterpiece of Prairie School architecture. Take a guided tour to admire the stunning interiors, innovative design, and beautifully landscaped gardens. It's a testament to Wright's genius and a testament to Springfield's architectural heritage.
Henson Robinson Zoo:
A visit to the Henson Robinson Zoo is a great family-friendly activity in Springfield. This small but charming zoo is home to a variety of animals, including lions, giraffes, and red pandas. It offers an opportunity for up-close encounters with wildlife and is sure to delight visitors of all ages.
Washington Park Botanical Garden:
Nestled within Washington Park, the Washington Park Botanical Garden is a serene oasis of beauty. Stroll through the lush gardens, including the renowned rose garden, and admire a wide array of plants and flowers. It's a perfect spot for a leisurely afternoon picnic or a quiet escape from the city's hustle and bustle.
Knight's Action Park:
For some outdoor fun and excitement, head to Knight's Action Park. This family-oriented amusement park offers a range of activities, including water slides, mini-golf, go-karts, and batting cages. It's a fantastic place to spend a day with your loved ones, especially during the summer months.
Route 66:
Springfield is also known as the "Birthplace of Route 66." Take a drive or a leisurely stroll along this iconic highway, and you'll encounter vintage diners, quirky roadside attractions, and nostalgic landmarks. Don't miss the Cozy Dog Drive-In, famous for its corn dogs, a Route 66 classic.
Illinois State Capitol:
Marvel at the stunning architecture of the Illinois State Capitol building, a symbol of Springfield's role as the state capital. Free guided tours are available, allowing you to explore the historic interior, including the rotunda and legislative chambers. Be sure to take in the panoramic view from the observation deck.
Springfield Art Association:
Art enthusiasts will appreciate a visit to the Springfield Art Association.association hosts rotating exhibitions featuring the work of local and regional artists. You can also participate in art classes and workshops, making it an engaging and creative stop in Springfield.
Lincoln's Tomb:
Pay your respects at Lincoln's Tomb, the final resting place of Abraham Lincoln, his wife Mary Todd Lincoln, and three of their four sons. This impressive monument stands in Oak Ridge Cemetery and is a solemn reminder of Lincoln's enduring legacy.
Illinois State Fair:
If your visit coincides with the Illinois State Fair, you're in for a treat. This annual event, held in August, showcases agricultural exhibits, thrilling rides, live entertainment, and a wide variety of fair food. It's a quintessential American experience that draws visitors from all over the state.
Adams Wildlife Sanctuary:
Nature lovers will find solace in the Adams Wildlife Sanctuary. This peaceful preserve features hiking trails through diverse habitats, providing an opportunity to spot native wildlife and appreciate the region's natural beauty. Birdwatchers, in particular, will be delighted by the sanctuary's avian inhabitants.
Lincoln's New Salem State Historic Site:
Step back in time at Lincoln's New Salem, a reconstructed village that replicates the community where Abraham Lincoln lived in his early adulthood. Explore log cabins, interact with costumed interpreters, and gain insight into the daily life of settlers in the 1830s.
Great Western Depot:
History and railroad enthusiasts will enjoy a visit to the Great Western Depot, known as the "Lincoln Depot." It's the site where Abraham Lincoln gave his farewell speech to Springfield The depot has been restored and now houses a museum with exhibits related to Lincoln's farewell address.
Read Also: allegiant airlines Flights
Springfield:
Learn about the African American history and heritage of Springfield and Central Illinois at this important museum. Exhibits showcase the contributions and experiences of African Americans in the region, making it an essential stop for those interested in civil rights history.